On Tuesday 9 May, the Government handed down the 2017 Federal Budget.
KEY BUDGET MEASURES INCLUDE
An opportunity for first home buyers to save for a home deposit through their superannuation
Non-concessional contributions for downsizer retirees
Increased Medicare levy from 1 July 2019
Rental property tax changes
IMPLICATIONS FOR AUSTRALIAN ASSETS
Cash and term deposits – with interest rates remaining low, returns from cash and bank term deposits will remain low. 
Bonds – a major impact on the bond market from the Budget is unlikely. With five year bond yields at 2.2%, it's hard to see great returns from sovereign bonds over the next few years.
Shares – the potential boost to confidence from this Budget could be a small positive for the Australian share market. Overall, the Budget's impact is unlikely to be huge. Construction stocks may be beneficiaries and banks losers.
Property – the Budget's housing affordability measures may have an impact on home prices over time if they incentivize states to ramp up supply, but it's likely to be marginal in the short term. We continue to expect momentum in the Sydney and Melbourne property markets to slow.
Infrastructure – the ramp up in infrastructure spending should in time provide more opportunities for private investors as many of the resultant assets are ultimately privatised.
The $A – the Budget alone is unlikely to have much impact on the $A. With the iron ore price falling back again, the interest rate differential in favour of Australia continuing to narrow and the $A still too high, the downtrend in the $A is likely to resume.
The 2017-18 Budget has a sensible focus on housing affordability and infrastructure. The main risks remain around the revenue assumptions and when we will get back to surplus. It is also important to note that the Budget announcements are still only proposals at this stage and will depend on the proposals being legislated in due course.
Click on the link below for a detailed analysis: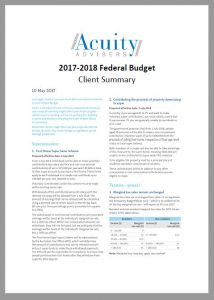 As always we welcome any questions you might have so please contact your adviser to discuss how these proposals might impact you.
Regards,
Acuity Advisers